Upcoming Events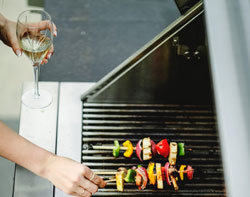 Wednesday, May 22nd

Perfect Pairings for Backyard Sipping & Grilling
@
Faculty Club
Start: 6:30pm

Barbecue season is kicking off, and fancy grills have never been more popular. As you head outside to prepare meals cooked with fire, we see demand increase for wines that go well with these foods. BBQ friendly wines need not be expensive.
Strategies for paring wines with BBQ?
BBQ is not complete without rosé wines. Rosé, frequently considered as a 'white wine alternative' for the typically red wineleaning drinker, has some added structure and complexity like a red with a fresh clean finish like a white wine. BBQ can stand up to a richer style of wine - whether fuller bodied with more alcohol and tannin or a richer and weightier white wine. We will serve a fresh white starter/reception wine; five different rosés; and two fresh, easy drinking reds; all suited to the patio and BBQ environment. Our tasting will accompanied by an alfresco-style tasting plate.
Join us to see what we have assembled for your enjoyment.
The Wines
Cape Town Sauvignon Blanc 2017
13.50
Derived from the cool growing areas flanking the city of Cape Town and hugging the cold Atlantic Ocean along the West Coast of Cape Town, the wine reflects beautiful flavours of white fruit and Cape gooseberries, balanced with a refined acidity.
Backsberg Pinotage Rosé 2017
16.30
Pinotage blend - Shows predominantly tropical shades of fruit with supple melon and traces of strawberry lingering.
Rustenberg Petit Verdot Rosé 2017
13.95
A dry rosé which exhibits elegant flavours of strawberries and rosé water / forward, fruity aromas & flavours on richly, soft, just-dry base.
Foundation Stone Rosé 2016
16.65
A blend of 48% grenache noir, 34% shiraz, 16% mouvedre, 2% viognier - A dry traditional style rosé with juicy red cherries and strawberries intermingled with Turkish Delight and a touch of spice. A lovely creamy yet fresh palate showing a perfect balance between acidity and sweetness.
Grand Provence Rosé 2016
20.20
Cabernet & merlot blend - With berry and applefresh verve, this is a go-to rosé to keep chilled and at the ready. Offers easy pairing possibilities with all sorts of dishes and wraps with a dry, crisp finish.
Klein Constantia KC Rosé 2017
20.30
Cabernet franc blend - Elegant and refreshingly crisp, aromas of cherry and citrus precede a creamier texture that builds on those flavours.
Duncan Savage Untamed Shiraz 2017
16.95
Ripe and floral with impressive balance and ripe dark fruit, plums, vanilla and spice. Crafted in a juicy, crowd-pleasing style that finishes long and creamy. Quite simply, this is a tasty little wine. A great choice for lamb kebabs or burgers
Reyneke Organic Red 2017
19.95
The newly released 2017 Organic Red is a blend of 89% shiraz and 11% cabernet sauvignon sourced from the best organic vineyards across the Western Cape, a quarter of it coming directly from the estate. It's well-balanced and quite elegant, with notions of fresh flowers, juicy berry fruit and peppery spice.
*We will make every effort to accommodate your food allergies or special dietary needs if requested.
When:
Wednesday, May 22nd
Start: 6:30 pm
Where:
University of Toronto Faculty Club, 41 Willcocks Street, Toronto, Ontario M5S 1C7
The Spadina streetcar stops at the corner of Willcocks and Spadina. 416 978-6325
Price:
$70 Members & $80 Guests
This event has a capacity limit. Once reached, members will be advised that no further registrations will be taken.
Closing date: Your booking or cancellation must be received by Tuesday - May 14th, 2019. You will be contacted if we are unable to accept your booking.
Your cheque payable to South African Wine Society or Visa credit card information will reserve your place. If we have your credit card information on file, you may book by e-mail to sawsinfo@rogers.com
* Visa charges will appear as Bokke Wines
To find more information about the event, including registration, follow this link.
Looking forward to seeing you there!
Note: As a courtesy to other members, please refrain from wearing any scented products, including perfumes, colognes, after shaves or hand lotions.